Your Initial Visit to Symetrics
Your Initial Visit
Here at SYMETRICS, we would like to ensure that your experience is pleasant from your initial assessment until we celebrate your discharge. Our friendly front desk staff and knowledgeable health professionals are here to create a positive, informative and educational environment to help you achieve positive physical results.
Getting the Paperwork in Order:
Upon your initial visit with us, the necessary forms will need to be completed by you prior to your initial assessment. We will then enter this information into our computer system to identify the specific needs of your complaint, billing arrangements, insurance information and scheduling. All information supplied by our patients is confidential and is protected under the guidelines of PIPEDA.
When is an Initial Assessment Needed?
An initial assessment with SYMETRICS is required for anyone experiencing pain, imbalance, or loss of function due to any musculoskeletal or neurological problem. We will provide a thorough physical assessment in order to determine the underlying cause of your symptoms. The assessment will take approximately 45 minutes with your physiotherapist or massage therapist. Chiropractic care involves less time for an assessment and treatment. Your assessment may follow with hands on treatment involving manual therapy, modalities, taping and home exercises based on your individual needs. Our services include treatment of sports injuries, automobile injuries, vestibular (dizziness) disorders, neurological disorders (ie. Parkinson's, stroke), and any other musculoskeletal problems or pain syndromes.
A new assessment will be needed if it has been more than six months since your last physiotherapy appointment for the same area.
Your Personal Treatment Plan:
Based on your initial assessment, our qualified health care providers (physiotherapist, chiropractor, and or massage therapist) will help to outline the treatment required to meet your specific needs. Your treatment plan will be comprised of the type of treatment you will require as well as how many subsequent visits that may be needed to achieve your goals.
Follow-up Visits:
Subsequent visits are usually required following an initial assessment to continue on with the rehabilitation process and track your progress. The number of subsequent visits will be discussed in your initial treatment plan and will depend on your progress in treatment and the goals that need to be reached. These visits will involve hands on manual treatment, stretching and strengthening exercises, modalities and education regarding your problem and how to best manage it. You may also require visits to our gym facilities for specific modalities or exercises administered by our qualified support personnel (PTA). These visits are typically scheduled for 30 minutes.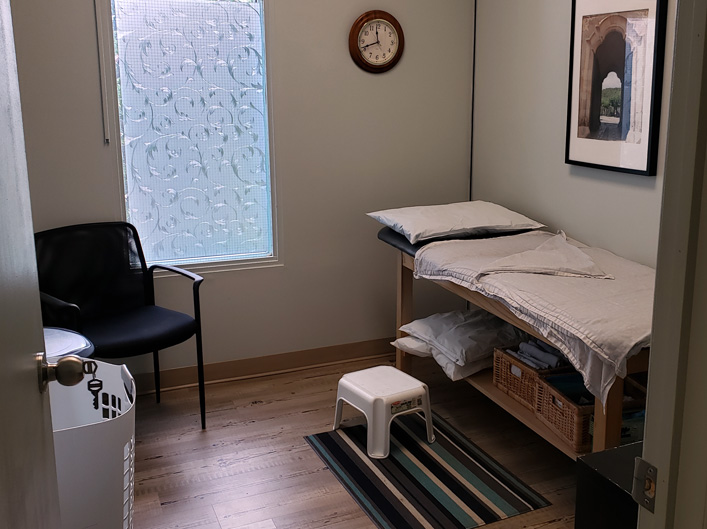 Gym Scheduling:
Gym scheduling may also be a part of the rehabilitation process. Physiotherapy support personnel are available for many patients who require additional assistance with respect to progress of their physical health and/or monitoring of programs.
At SYMETRICS, we provide many rehabilitation services: