Physiotherapy
What Do Physiotherapists Do?
They provide valuable health care for people throughout their lives – from birth to old age. Physiotherapists:
diagnose & assess movement dysfunction
alleviate pain
speed the return to work of injured individuals
help prevent & treat sports injuries
restore mobility to people with neurological disorders such as stroke, spinal cord injuries or Parkinson's disease
advise on ergonomics for homes & workplaces
counsel on aspects of pre- and post-natal care
work with hospital patients to prevent and treat respiratory complications of surgery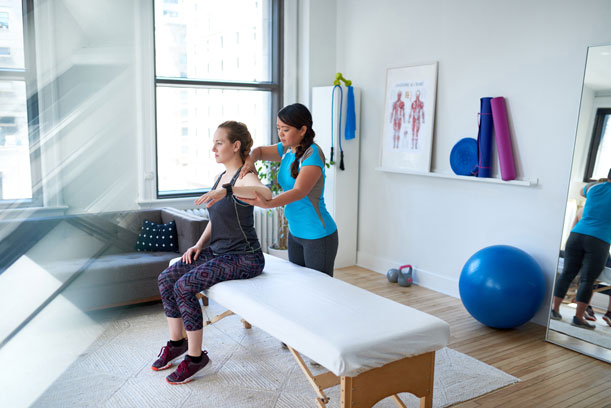 Physiotherapists Work With Clients to Achieve Goals By:
restoring flexibility in joints
prescribing, supervising & modifying exercises that strengthen muscles and increase endurance
improving balance and coordination
educating people in the use of canes, crutches & wheelchairs
improving cardiopulmonary fitness levels
Physiotherapists are highly educated healthcare professionals who evaluate physical function, and work with people to help them restore and maintain their strength and mobility while relieving their pain.
Our Philosophy:
Our physiotherapists have a detailed understanding of how the body works, and the impact environmental and lifestyle factors can have on your physical condition. SYMETRICS' approach to treatment is based on the belief that the body is a network of interrelated parts and should not be viewed as individual parts functioning independent from each other. This philosophy has been very successful for those clients with recurrent or chronic injuries.
What Will Your Physiotherapist Do For You?
A physiotherapist will work with you and your healthcare team to provide a personalized treatment plan based on your specific needs, and that focuses on achieving your highest level of physical well-being.
A Little About Physiotherapy Training:
More than 13,000 physiotherapists are licensed to practice in Canada. They are all university-trained in anatomy, physiology, psychology and sociology, and are able to provide diagnoses and therapeutic intervention for all of the body's systems.
Additional Information:
For more on physiotherapy, visit a few of these popular websites: