Chiropractic Care
We've got your back! As spine, muscle, and nervous system experts, chiropractors provide qualified, effective treatment to promote health, alleviate pain, and improve your quality of life.
Chiropractors focus on your spine, muscle, and nervous system and treat the bones, muscles, soft tissues, and joints that you use every day. The spine, muscle, and nervous system supports your weight, keeps your body stable, protects your organs, and keeps you moving. It also connects directly to other vital systems in your body, which is why medical professionals, researchers, and the wider health community trust the spine care expertise of chiropractors to assess, diagnose, and treat conditions and injuries related to the spine, muscle, and nervous system.
For optimal health and quality of life, a chiropractor should be part of every Canadian's healthcare team.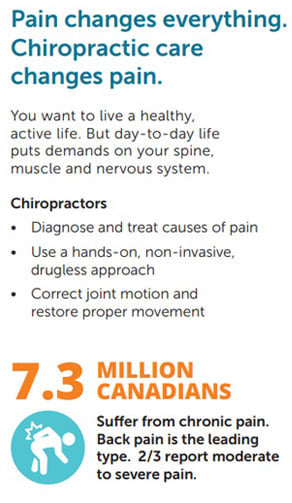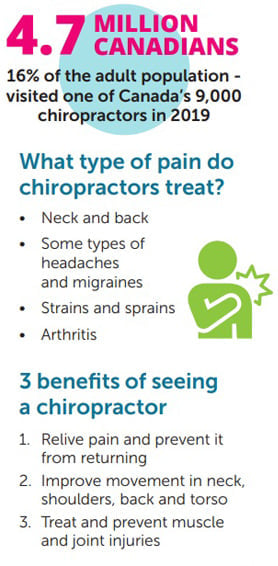 Over 4 million Canadians visit a chiropractor each year.
You may want to visit a chiropractor at various times throughout your life. A chiropractor can alleviate long-term or sporadic pain, promote health and help you live your best life. Whether we're at home, work or out and about, daily living puts strain on our bodies. As a result, you may suffer from persistent headaches, migraines, back, neck or joint pain. You may also have this type of pain due to an injury, accident, illness or long-term condition. Taking pain relievers and anti-inflammatory medications may temporarily alleviate your symptoms but may not address the underlying cause. They may also create new health challenges. Consider visiting a chiropractor instead.
Using primarily their hands, your chiropractor will treat these issues without medication or surgery and help prevent them from returning. But you don't have to have an issue or be in persistent pain to visit a chiropractor. They can help you at many other times. Do you need a referral to see a chiropractor in Ontario? In Ontario, you can visit a chiropractor without a referral from a doctor, nurse practitioner or other health care professional.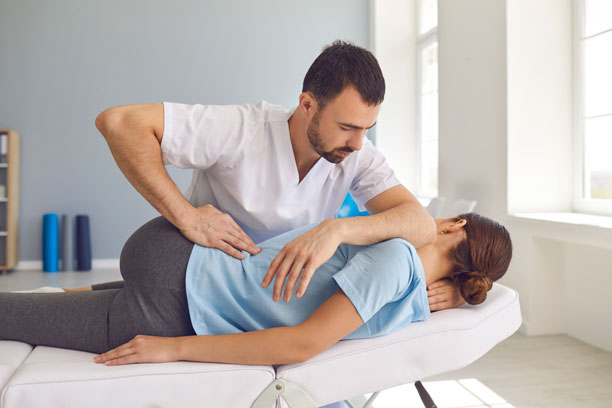 Is Chiropractic Effective? Research and Outcome Highlights:
Reduced Medication and Opioid Use:
A 2019 U.S. study found that 64 per cent of patients who saw a chiropractor were less likely to use opioids than people who didn't, as reported in the journal Pain Medicine. 1
83 per cent of patients surveyed now rely less on medication, including opioids, to help manage their low back pain, after receiving care from a musculoskeletal (spine, muscle or joint) expert, such as a chiropractor, at one of Ontario's government-funded Primary Care Low Back Pain program sites. 2
2017 Canadian Guideline for Opioid Therapy and Chronic Non-Cancer Pain recommends therapies without medication, such as spinal or joint manipulation and therapeutic exercise, for treating back pain, as well as neck pain, knee osteoarthritis, fibromyalgia and severe headaches or migraines.3
Pain Relief:
The American College of Physicians Low Back Pain Systemic Review demonstrated that exercise is effective for reducing long-term (chronic) low back pain and spinal manipulation provided better short-term pain relief than other active interventions. 4
Studies have shown people who receive chiropractic care are more likely to be physically able to work in a shorter duration of time. 5
(Information courtesy of the Canadian Chiropractic Association).
For more on chiropractic care, visit a few of these popular websites:
[1] "Association Between Chiropractic Use and Opioid Receipt Among Patients with Spinal Pain: A Systematic Review and Meta-analysis", Pain Medicine, September 2019. [2] Primary Care Low Back Pain Pilot Evaluation: Final Report. Centre for Effective Practice. Toronto: Ontario. March 2017. [3] Busse, J. W., Craigie, S., Juurlink, D.N., Buckley, D. N., Wang L., Couban R.J., Agoritsas, T., Akl, E.A., Carrasco-Labra, A., Cooper, L., Cull, C., da Costa B.R., Frank, J.W., Grant G., Iorio, A., Persaud, N., Stern, S., Tugwell, P., Vandvik P.O. and Guyatt G.H., Canadian Guideline for Opioid Therapy and Chronic Non-Cancer Pain, CMAJ, 189 (18), May 2017. [4] Qaseem, A., Wilt, T. J., McLean, R. M., & Forciea, M. A. Noninvasive Treatments for Acute, Subacute, and Chronic Low Back Pain: A Clinical Practice Guideline. American College of Physicians Noninvasive Treatments for Acute, Subacute, and Chronic Low Back Pain. Annals of Internal Medicine, 166(7), 514-530. April 2017. [5] Blanchette, M., Rivard, M., Dionne, C.E., Hogg-Johnson, S., & Steenstra, I. Association between the type of first healthcare provider and the duration of financial compensation for occupational back pain. Journal of Occupational Rehabilitation, 2016.