Symetrics
Jacob Guenette
2021-12-26
I suffered a concussion and was referred to the clinic by the hospital after my second visit to the emergency. I was able to get an appointment a few days after my referral, which was great. I was two weeks into my recovery when I came in for my first appointment. Before visiting Symetrics, my recovery was slow and I was very discouraged. I was even starting to develop symptoms of depression. At Symetrics, I was treated by Dr. David Chambers. After my first visit, I already felt much better and felt like I was back on track to feeling better. By the time of my second appointment, I was leaps and bounds above where I had been. I fully recovered less than two weeks later, after only 4 appointments. I highly recommend this clinic to anyone who has suffered a concussion. I only wish I had known about Symetrics earlier into my recovery.
Patrick Sacher
2021-08-15
Highly recommend, I went in to meet with John, and I really appreciate his input to help me prevent long-term injury. He took the time with me to figure out what challenges I have and provided me with solutions to fix it. I would highly recommend going to Symetrics for your physio needs.
Stephanie Boden
2019-09-11
Danielle Cousineau of Symetrics is the Guru of all Gurus when it comes to physiotherapy. She is very thorough and explains things so clearly. I was informed and educated by her. I left her office feeling very assured that I was now in good hands. Thank you for your amazing help Danielle.
Outstanding practice of kind and concerned physio, chiro, massage and great staff. If you have a hitch in yoir giddyup, no place in North Bay better to go.
lizanne attwood
2016-11-14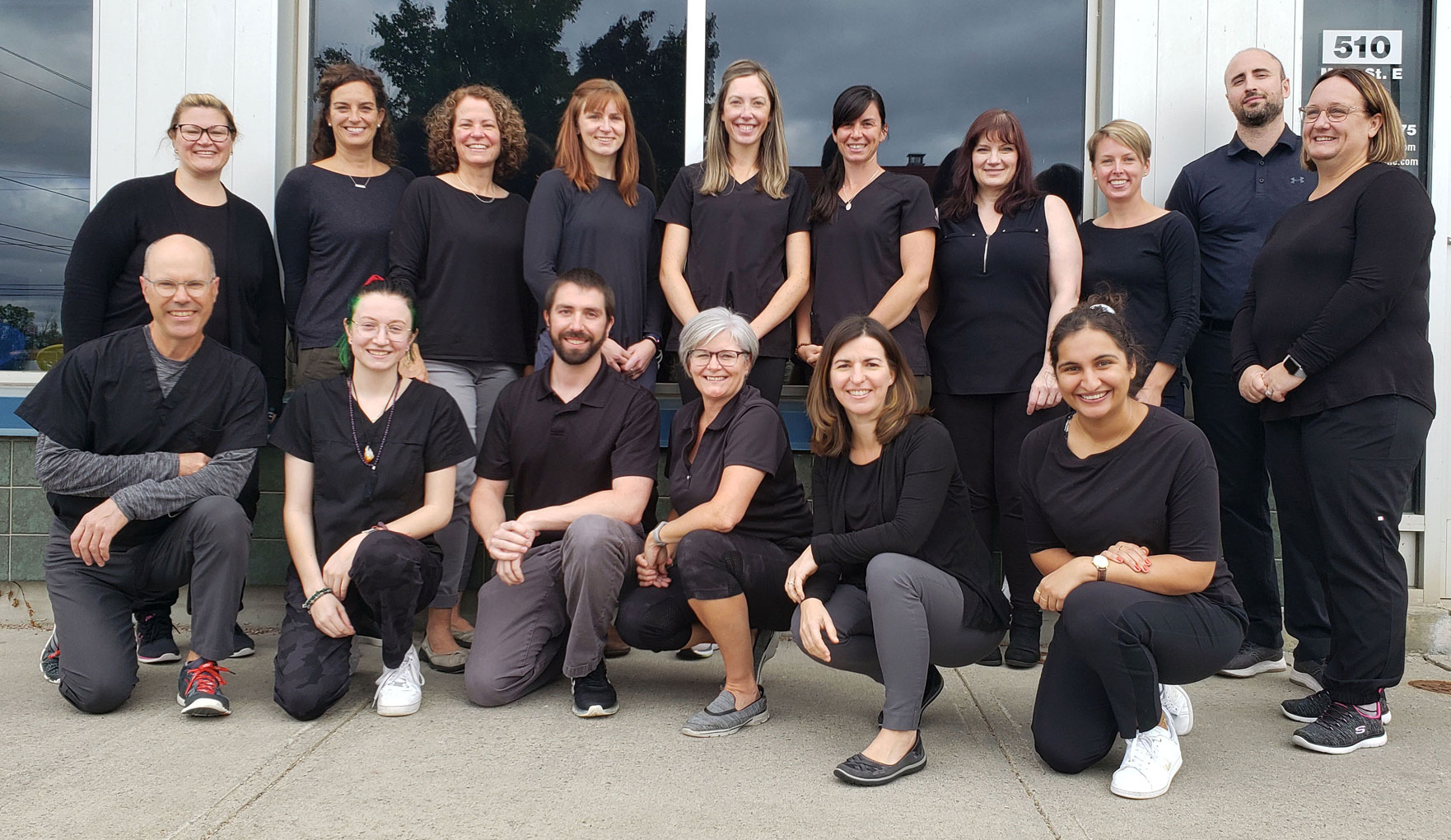 The SYMETRICS Team
Working at SYMETRICS is a pleasure. From the beginning I knew the fit between myself and the culture of the clinic owners and staff was perfect. Within a year of working at SYMETRICS I have had the opportunity to take on more responsibility with clinic operations and become a junior partner. This process has been made especially enjoyable as I have had ample time to continue to see my patients and receive mentorship from both a clinical and business perspective. The staff is friendly, inviting and incredibly knowledgeable. I am looking forward to being a part of the future growth of this clinic for years to come.
-Chris Sheremeta (RPT)
I came to SYMETRICS on a clinical placement when I was still in PT school and I loved it! Not only is the staff welcoming and friendly but I was also able to learn so much from every single person who works here. I am currently awaiting accreditation for physiotherapy licenses from the USA and was initially nervous about not being able to practice and progress my skills as a physiotherapist. However, the SYMETRICS staff has provided mentorship to me, given me the chance to continue to practice and develop my skills, and welcome any new ideas I have while I wait to become a registered physiotherapist in Canada."
-Yashna Lakhani (DPT)
SYMETRICS is looking for a physiotherapist!!!
Perks about moving to North Bay and working at SYMETRICS :
Signing/relocation bonus
Competitive income with a guaranteed financial stability (main compensation decisions will be based on your performance).
Premium pay if you are bilingual (French and English).
We believe in MENTORSHIP! Guaranteed bi-weekly mentorship with an experienced physiotherapist in any of these specialties: manual therapy, pelvic floor physiotherapy, vestibular rehabilitation and concussion management.
5-10 new assessments per week.
Varied caseload: private fee-for-service clients of all ages (80-85% of caseload), MVA, OHIP, DVA. (no WSIB)
Education allowance.
Vacation pay depending on experience.
Healthcare spending account is available for all employees. 
Company sponsored team dinners and outings.
No double-booked treatment sessions.
Career progression opportunities: while focusing on your clinical work, you will also have opportunities to help SYMETRICS grow.